Kiss Zoltán - Export Manager - Endrich Bauelemente Vertriebs GmbH
Connected "smart" devices - Applying E-IoT in practice - The smart doorbell project
18 May 2022

Summary :
Since Bob Rafelson's iconic film "The Postman Always Rings Twice" we all know that postmen never gives up, unfortunately not as in reality. You all must have experience that missing the long-expected magic doorbell may result in a waiting a long queue at the post office late evening after work to pick up the important parcel or registered mail. What if your doorbell would generate a pop up message on your mobile device or you would get an SMS about someone's waiting in front of your door? Of course, today in the era of IoT it is all possible, such as an intelligent garbage bin telling if it is full, or the flower in the garden would cry for irrigation, your pond reporting critical water level in the hot summer…Let us see how we can call the narrow band LTE communication technology for help.
---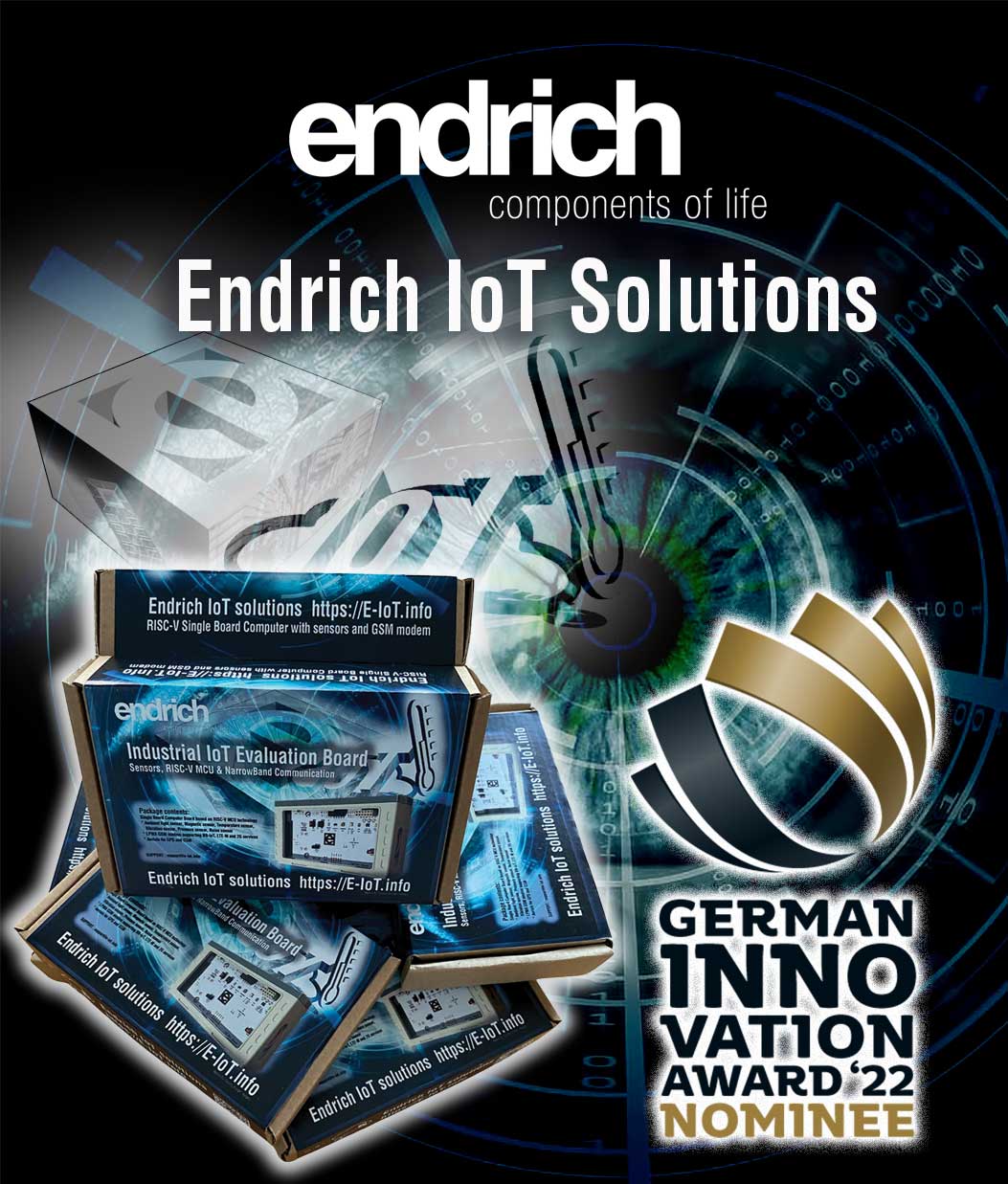 For above mentioned solutions the blocking point is always the cost. Most of the mainstream connected solutions therefore use the local networking possibilities to reach the Internet by using the infrastructure's (house, shop, social area) Wi-Fi hot spot for internet access. However, network security does not make it easy to accept to connect all kind of devices for a company network, so this solution widely used in air conditioning systems, security cameras and other commercial products are only designed for private use. What if industrial applications require Internet access? Of course, it is possible to use GSM modems, connecting devices through the 2G, 3G or legacy LTE networks to the Internet. This is costly way as the urban sanitation company may not afford to integrate a "mobile phone" economically to your garbage bin to optimize their garbage collecting routes, you will not have for all your flower beds to install an another one to report ground soil moisture level, and definitely you cannot use a mobile phone instead of your doorbell…. The other issue is the battery lifetime. You need to use high-capacity lithium disposable batteries, in most of the cases you cannot use rechargeable batteries such as in the mobile devices, or only those with low capacity, which can be recharged by a photovoltaic solar cell.
The narrow band GSM technology (NB-IoT a 3GPP radio technology standard) offers a solution : these modems are cheaper, as all unnecessary functions are kicked out from their feature list. No voice communication, no 7/24 connection to the GSM network, no SMS, no fast data transfer is needed when you only have to send small data package every now on then.. As the bandwidth offered is low, magnitude higher number of such devices may be placed in the same GSM cell and can share a part of the LTE band. Therefore, the costs will be reduced on both hardware and connectivity side. The modem is a way cheaper, consumes much less energy as most of the lifetime it spends in sleep mode, usually in the range of 5 USDs. On the other hand, the used NB-IOT SIM card offers also low cost, the usual business model is 10 EURs for 10 years and 100 Mbytes data. This makes it possible to use this technology for all purposes when sensors' data have to be sent to a Cloud Database with as least price as possible. Additional advantage of this system is the availability in lower sub-gigahertz frequencies, such as the 450 MHz band (Band31). Since NB-IoT uses narrowband (180KHz), it allows for an increased density of transmission power and that, along with other coverage enhancement capabilities makes indoor penetration and reach far better than other technologies.
Although there are full duplex protocols used in combination with NB-IoT such as MQTT, we have to use NB-IoT in the right use-cases: when you need to SEND small package of (sensor) data for limited times a day. When 7/24 connection is required, for example you need to remote control devices such as A/C systems or home equipment from application, NB-IoT is not always the best solution as it does not provide (easily) constant presence of your connected device on the Internet. However with a cheap low power consumption microcontroller and the right sensor in combination NB-IoT offers and affordable solution for tasks such as the above mentioned cases ("smart" garbage bin, flower irrigation or doorbell). So let us see an example how to create a "smart" doorbell!
In an earlier issue of SEEIM we have talked about Endrich's E-IoT evaluation platform, which contains all the necessary components we need to have for making a conventional device SMART. The hardware platform offers an evaluation board having a RISC-V based MCU and a 2G/ NB-UIoT/ LTE-M modem on board with lots of different sensors and also the possibility to contact external sensors to it. The underlaying software services such as the Endrich Cloud Database and the Endrich Visualization Gateway offer solution for handling the data received through the Internet via the GSM connection.
So let us combine them and use this board to create a "SMART" doorbell, as a proof of concept. This models perfectly an independent wireless NB-IoT Button, which can be used in harsh industrial environment as an alarm button for example. Opening our mind and replacing the switch with a load cell/force sensor (garbage bin), a soil moisture (irrigation) or liquid level sensor (pond), we have the solution for the examples brought up in the beginning of this writing. Using a reed relay or any other opening detection a simple NB-IoT intrusion detection system can be realized. As the recent design is a PoC, we used a three band modem, so one can make a balance between battery lifetime, power consumption, latency time (using LPWA) versus wider services access (using 2G)-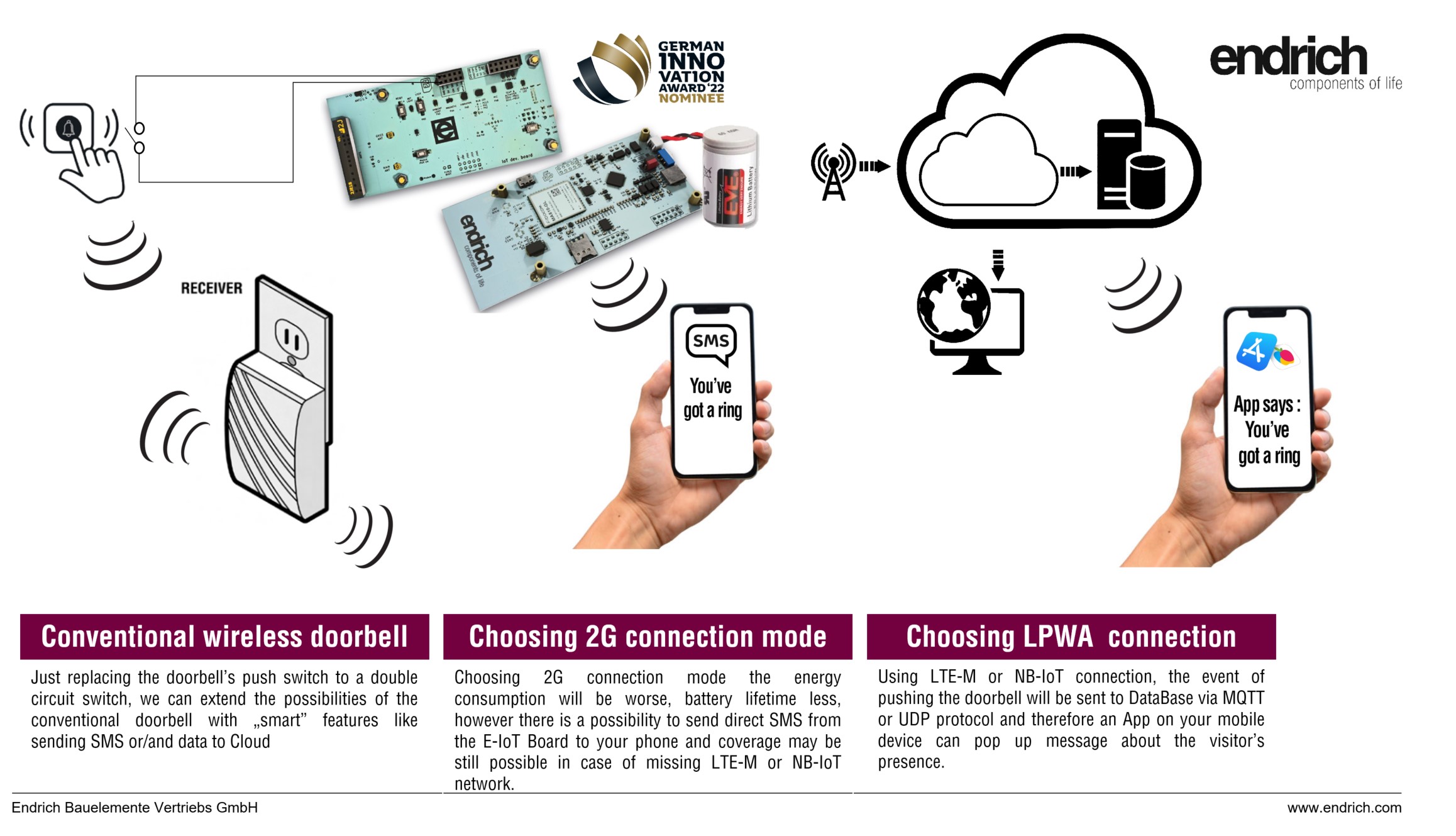 Using an NB-IoT SIM card we can send in the status of the push switch to the Cloud Database at every moment the button is pushed. Our app on the mobile device may pop up messages based on the data stored in the ECDB real time. Using a 2G (GPRS) SIM card in the E-IoT board we do not even need to connect to the database, the modem is used in 2G mode, meaning features of direct SMS sensing is possible (in reality this mode has no economic meaning as battery lifetime and modem and communication costs will be problematic) .
---
|
Share on Facebook
|
Share on LinkedIn
|
---
References
This article has been published on the following locations: