Jochen Bauer, Zoltán Kiss- Area Sales Manager - East Europe - Endrich GmbH.
Industrial TFT displays with the new iSi50® interface from Endrich
8 November 2016

Summary :
Switching between different versions of TFT displays, primarily due to the problem of connection, imposes a major design task on product developers. Since manufacturers tend to modify their product from time to time, designers often need to look for alternative suppliers to find TFT panels suiting best for the next series of their product. However, it is often impossible to find a panel featuring exactly the same physical interface layout. Similar issue occurs when a different screen size or a more exclusive design has to be adapted to the same electronics requiring in most cases PCB design change. In response to this challenge, Endrich Bauelemente Vertriebs GmbH has developed the iSi50® intelligent interface integrating all signal lines (data, backlight and touch) into a single 50 pin ribbon cable. iSi50® intelligent Standard interface – with 50 pin connector
---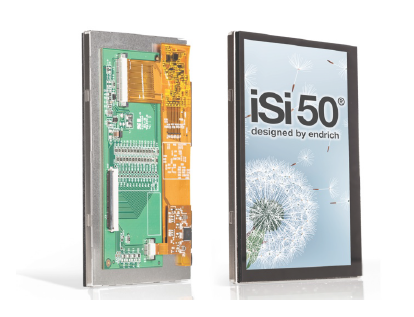 Endrich iSi50® product line
The iSi50 concept developed by Endrich makes possible to connect their 3.5"-7" TFT modules having resistive or capacitive touch to the PCB of the device via a standard intelligent interface. Apart from the simple cost-optimized industrial display line with max 500 cd/m² backlight, the sunlight eadable high-end display line having 1 000 cd/m² backlight is also available. Whichever one is the preferred solution, compatibility is guaranteed.
The uniformly positioned 50 pin connector and the built in PWM controlled backlight-driver provides additional simplification for designers. There is no need to change the PCB layout when a different sized TFT panel is selected from the iSi50 family, and only a single 3.3V power supply will be necessary. Compatibility extends not only to the different sizes but also to the shift between the two product lines. For example, a 4.3" high-end TFT with PCAP (projective touch panel) can be exchanged for a 7.0" size, but also, a cost effective 4.3" simple industrial version can be upgraded to a 7" high-end panel without re-engineering. This new iSi50 interface ensures that manufacturers can offer a variety of high-quality products with multiple options available without re-designing of the electronics. Both the cost-optimized and the exclusive lines offer the following sizes: 3.5 ", 4.3", 5", 5.7" and 7", and also the 8" versions are under development. Panels without touch control as well as with resistive or capacitive (PCAP) touch control are available. The simple line guaranteeing 20.000- 30.000 hours of backlight lifetime is supplied by MultiInno Company whose standard display have been well tested in Endrich's customer projects in the recent years. The sunshine readable devices of the improved high-end line are featured by 40.000 to 50.000 backline lifetime and the supplier guarantees 5 years of availability for both the interface and the mechanics, which means serious advantages towards reliable end-user products.
The essence of the iSi50® concept
We have developed the most optimal mechanical layout of the displays together with our TFT suppliers.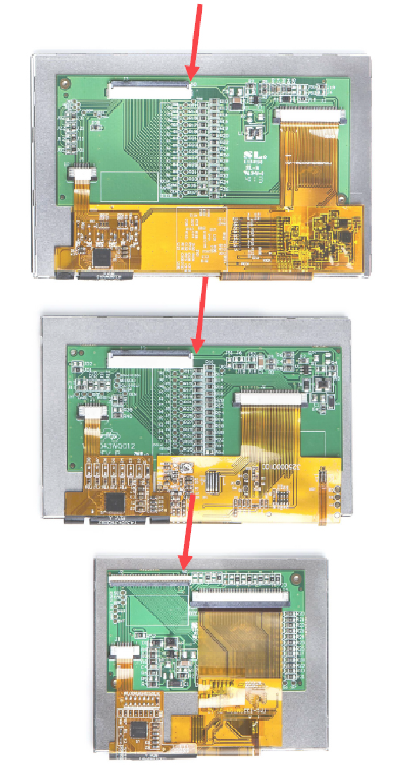 The panel position on the back side allows seamless application of a plastic frame, and the single 50 pin connector is always aligned horizontally to the middle of the panel. Due to that, even if a larger panel becomes necessary the connector location remains the same and do not require re-designing of the PCB.
In case of using projective capacitive touch control (PCAP,) a PCAP controller is attached to the foil cable which uses the same IC family for all different sizes of PCAP requiring only a minimal software modification when upgrading to a larger display and preserving the same electronics. The sensitivity of the touch can also be adjusted by programming the controller. The external edges of the touch panel are covered with protective glass which can be custom designed, and optionally glued to the TFT using optical bonding. Non-reflective and fingerprint-free foil can also be applied.
Features and Benefits of iSi50®
The unified TFT standard supports two product lines
Cost-optimized industrial line with MultiInno TFT panel, max. 500 cd / m2 backlight
Exclusive line with max. 1 ,000 cd / m2 backlight
Both lines are available in various sizes: 3.5 "/ 4.3" / 5.0 "/ 5.7" / 7.0 " in the variation:
Without touch panel
With resistive touch panel
With capacitive touch panel (PCAP)
All signals are accessible via a single 50 pin connector (24 bit TTL RGB, backlight and touch panel)
The ribbon cable of each iSi50 TFTs has an integrated backlight control, powered by the same 3.3V power supply as the TFT itself. "One connector - one interface - one voltage."
Independently from the size of the TFT (3.5 " 320x240 px/ 4.3" 480x272 px / 5.0 " 800x480 px/ 5.7" 640X480px / 7.0 " 800x480 px), the connector is always aligned to the middle of the horizontal side of the display to avoid redesign.
The iSi50 displays are interchangeable regardless the product line (costoptimized or exclusive)
The free edges allow easy installation using mounting frame.
Beside the displays, Endrich Bauelemente GmbH offers ARM based single board computers (SBC) and computer on board (COM) modules supplied by F&S Elektroniksysteme.
Both of the COM modules and the SBCs are available in PicoITX size allowing simple and cost effective driving of TFT modules from quad-VGA to full HD resolution. Freescale/NXP guarantees minimum 10 years supply for the applied CPU (Cortex-A5 / -A7 / -A9.) These devices are providing many other interfaces beside the TFT drive: CAN, UART, USB, I²C, and in some versions WLAN and Bluetooth also.
Our customers can find LCD/TFT and pmOLED display solutions for industrial automation, medical electronics till consumer electronics in the Endrich product line. Complex solutions for complex tasks together with Endrich's product support make our company one of the leading display specialists in Central Europe.


---
|
Share on Facebook
|
Share on LinkedIn
|
---
References
This article has been published on the following locations: